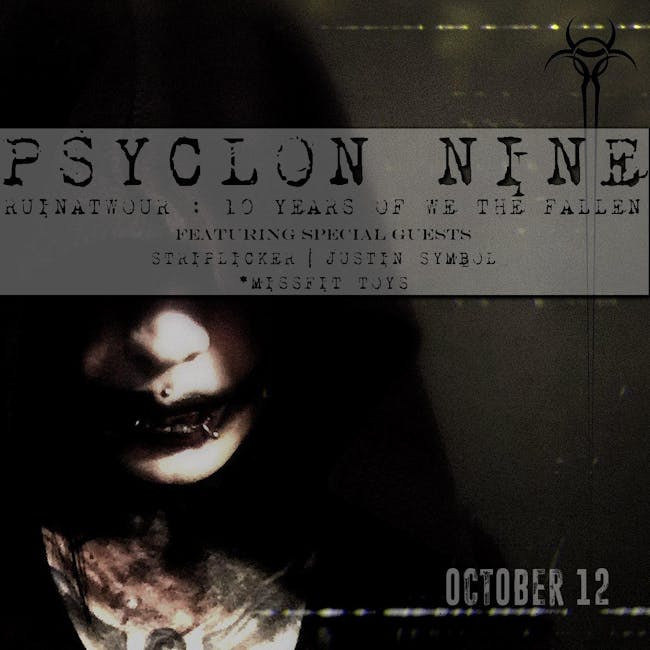 Psyclon Nine
Striplicker, Justin Symbol, The Union
$12.00 - $15.00
Sales Ended
Psyclon Nine: Ruinatwour [10 year anniversary of We The Fallen tour] with The union, Striplicker and Justin Symbol
ALL AGES // $12 Adv // $15 Dos // 7PM
Since forming in the year 2000 Psyclon Nine has cemented it's name into the
history books as one of the most infamous and successful bands of the
Industrial and Metal crossover genres.
Each of Psyclon Nine's 6 full
-
length releases have charted internati
onally
appearing in the Top 10 of the DAC and landing a position on the Top 200
Billboard Rock Charts in the USA. Their music video for Parasitic would go
on to become the most viewed Industrial music video at over 5 million views
and counting.
Psyclon
Nine garnered a large, die
-
hard fan base while touring with
Metropolis Records label mates Mindless Self Indulgence as well as other
international acts such as Mushroomhead, TigerArmy and appearing as a
headlining act three times at the Wave Gotik Treffen
festival in Leipzig
Germany to an audience of over 30,000 fans.
After their recent, successful Tour Of The Worm Infektion in the USA in
support of their newest release Icon Of The Adversary, Psyclon Nine is
preparing to tour once more in celebration of
the 10 year anniversary of their
4th full length album We The Fallen and subsequent "Ruinatour". The
forthcoming RuinaTWOr will include band members Tim Skold (Marilyn
Manson, KMFDM) on guitar, Matthew Setzer (Skinny Puppy, Ohgr) on
synthesizer as well as
Jon Siren (IAMX, Front Line Assembly) on drums.
We The Fallen has been described as the pivotal, breakout album for Psyclon
Nine. It was the bands first album to appear on the Billboard Rock Charts,
became the Number 2 album through Hottopic and would c
atapult the band
from a genre
-
specific scene into the greater alternative world. This 10 year
anniversary tour will see Psyclon Nine performing We The Fallen in its
entirety along with select tracks from their entire back catalogue.
Regarding their 2018
release, Metropolis Records had this to say about Icon
Of The Adversary
-
"Blending concussive, machine
-
precise drums,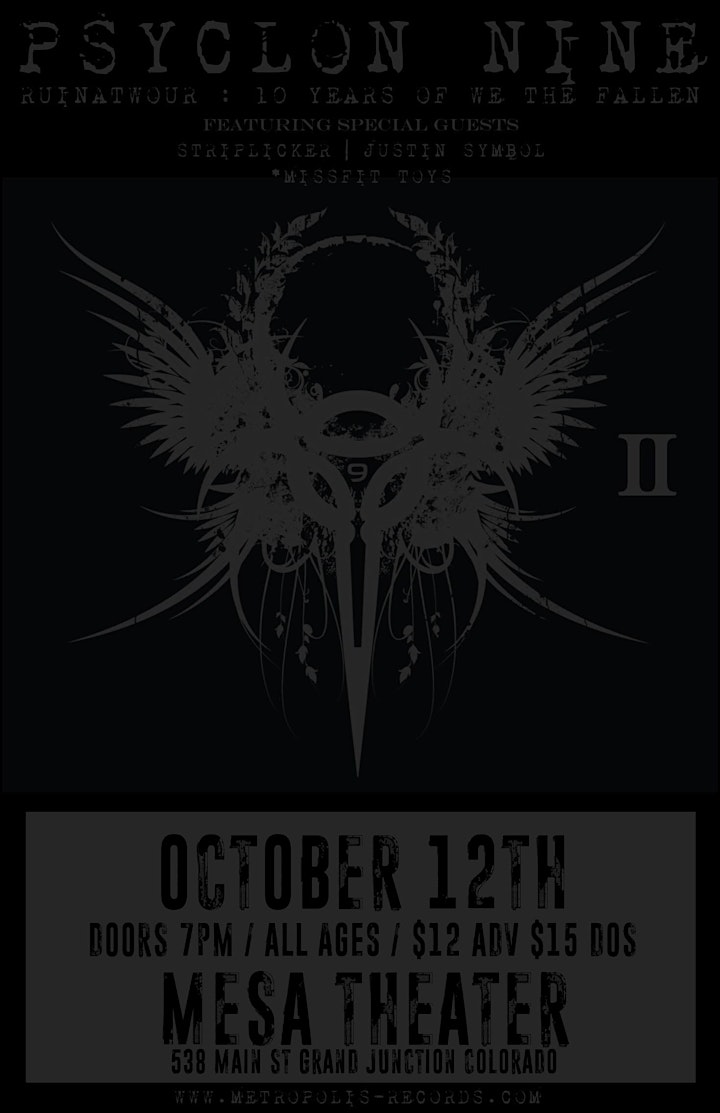 Venue Information:
Mesa Theater
538 Main ST
Grand Junction, CO, 81501